It was a Bank Holiday weekend here in Thailand, and now I've got my
car I can range far and wide. For my first long distance trip I'd
resolved to visit Khao Yai, Thailand's first national park. It's a
large area of pristine tropical jungle where wild elephants, gaur and
tigers freely roam. All commercial development is banned within the
park, so the local hotels cluster around the entrance.
Khao Yai lies about 2½ hours East of Ayutthaya (and a little North).
Though, if, as I did, you try to follow minor roads, it can take a
little longer; being stuck behind trucks trundling along at a
leisurely pace might have been frustrating, were it not for the
verdant green rice fields to either side. (And getting lost a couple
of times added even more to the journey.)
Ayutthaya is on Thailand's central plain – hot and dry. Barely a
hillock disrupts the vast level expanse. So, as I drove East it was
somewhat strange to see limestone outcrops rising straight out of the
ground. Even stranger were the cement factories whose futuristic
pipework wouldn't have looked out of place on the cover of some 1960s
science fiction novel, if accompanied by a similarly futuristic robot
or spaceman.
I checked in to a resort near the entrance to Khao Yai. There were
bungalows of various sizes and prices scattered over a large area, all
of them fairly basic.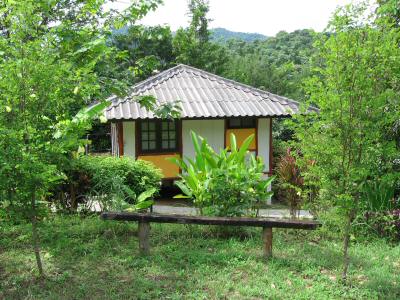 I had a hot shower, fridge, aircon, firm bed,
and a TV showing a handful of grainy Thai TV channels – that was about
it. Even though the price was comparable with a 4* hotel in Bangkok,
there was neither fancy soap nor shampoo – not even a kettle for
making tea. The decor was somewhat eccentric, too.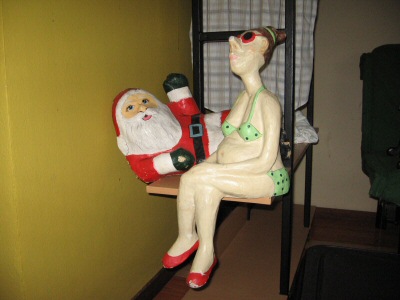 After a long journey I didn't feel like venturing out to find
somewhere to eat, so I tried the in-house restaurant. This was
probably a mistake. The food was pricy, and not particularly good.
But then, the local competition was from similarly pricy resorts.
Next day, the breakfast was no better.
A twenty-or-so minute drive took me to the entrance to the park. I
paid the 400 Baht farang entrance fee – plus an extra 50 Baht for the
car. (Thai people pay 40 Baht to enter.) There was then a long,
twisty drive rising up through the jungle. At first I passed through
deciduous forest in the drier valley areas, then evergreen forest at
higher, wetter levels. Being a Bank Holiday weekend, there was quite
a lot of traffic – but not enough to be irksome.
The enduring impression of is endless greenery, though there were a
few signs of mammalian life. I saw a furry sausage scuttle across the
road, an ape standing on the road, and a couple of deer. And I heard
the strange whoopings of gibbons (think of a chorus of demented swanny
whistles) and the background choruses of cicada and frogs. In the
south of the park there was evidence of the wild elephants (think
piles of brown, fibrous cannonballs on the road).
A highlight was a visit to one of the waterfalls, made famous by the
film "The Beach" in which Leonardo DiCaprio pretended to act. Of
course, this waterfall is nowhere near a beach – but that's the
mystery of the magic lantern for you.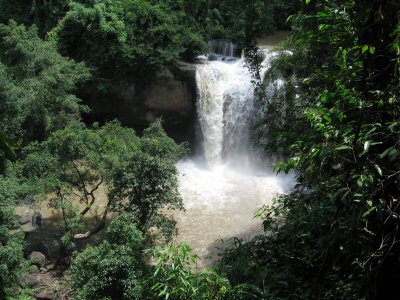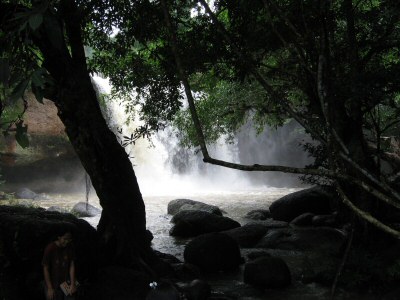 Dinner was in a restaurant near the resort (I wasn't repeating the
same mistake twice) – a place attached to a winery (the first in
Thailand, I believe). A perfectly delicious pizza (albeit with a
scattering of grapes on it), cooked in a wood oven, was accompanied by
a glass of Thai Shiraz and a fresh, green salad.
On returning to the resort, I found there was no water. After a day
in the jungle I was rather in need of a shower, but I had to retire
sticky. Still, I have major water supply problems in my house, so it
made me feel at home.
On rising, still no water. I headed for my rather grim breakfast
unshaven, smelly and grumpy. I was half planning on diving into the
pool with my bottle of shampoo and a bar of soap to render myself
clean.
Anyway, on my way back to my bungalow I had a nasty trip. My right
wrist broke my fall; and fortunately the fall didn't break my right
wrist (though it took me a while to work out that it was simply a
sprain, rather than a fracture). I also badly grazed both my legs, so
I was horrified to find out that the water had been restored by the
time I returned to my bungalow. The sounds I made as I washed out the
wounds sounded like a dog that had been kicked hard. I'm sure my
yelping was audible across the valley.
The return trip to Ayutthaya was along faster roads (albeit with more
miles on the clock). And on the way I stopped at Chokchai Steak
House. Chokchai is a national institution; it was the place that
bought modern dairy farming to Thailand. Bottles of Chokchai milk are
on sale in every 7-11 and most supermarkets. And when I used to ask
my students to write about their favourite restaurant, a goodly
proportion would describe Chokchai. They (Chokchai, that is, not my
students) graze western-style cows (they look like Friesians) on the
rich grass around Khao Yai. The cows that don't cut it on the
milk-bearing front (I believe they are called heifers) end up served
on hot iron plates with half a baked potato and a selection of veg.
Not that I had a tranche of cow – but the salad was jolly good.
[272]