Unlike Mozaic's location on the fringes of town, Locavore (pronounced to rhyme with "herbivore") is pretty much in the centre. And unlike Mozaic's Balinese portal, on arriving at Locavore one is greeted by a locked, plain wooden door with a small glass panel. To the left is a window through which one can see the cooks make their magic. And once through the door, there's no lounge. One is taken straight to one's table – a table which, to be honest, is rather too close to the neighbours' one.
I was disappointed to find that we'd been put in a table in a corner, and I was left basically staring at the wall, a prospect only leavened by the large mirrors on the wall which let me observe approaching wait staff and the kitchen in the distance.
Like Mozaic, there was no à la carte, just a choice of tasting menus. Whilst choosing which (OK, I lie, I'd chosen weeks before I arrived) I ordered a cocktail. I can't remember its exact name (something like "Into the Forest") or what was in it, but it arrived with a pot of smoking thyme twigs. That not only seemed rather unnecessary and a tad unpleasant, but also would have been dangerous say for a severe asthmatic. And to be honest, had someone on an adjacent table been served one, I'd have been more than a little miffed: I really try to avoid restaurants that allow smoking. My other grumble is that the barkeep seems not to own a strainer. This cocktail, like others I received later, was full of botanicals. I'd have preferred them removed after they'd done their work. I still had high hopes, but the initial impression was less than stellar.
As amuse gueules there was a large leaf (possibly deep fried) with a crispy coating and a (rather greasy) morsel of chouros (deep fried batter) topped with a piece of cheese. (No photos. And as before, all my photos are rather poor given the low level of ambient light.)
Then there was a sorbet (cold) in a warm tomato water. Somehow the sorbet perfectly captured the sweet and sour notes of tomato. Things were looking up.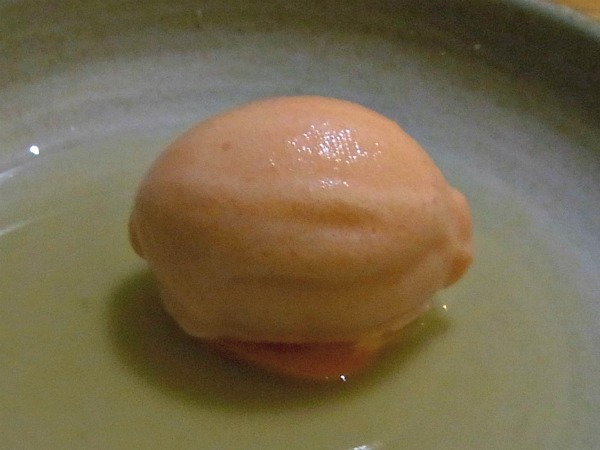 First course was tiger prawns, cold smoked, lemon balm cream, a vinaigrette flavoured with shellfish bisque, bitter leaf salad, sour dough crumbs, cucamelon (a sort of slightly sour cucumber from South America).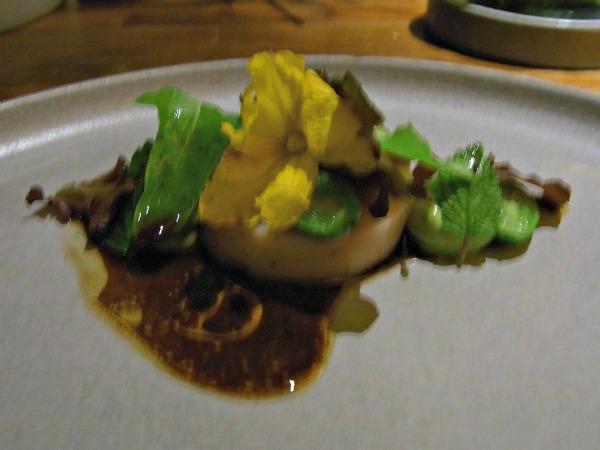 The disk beneath the leaves is the prawns, pressed together.
The following dish I don't have a description for.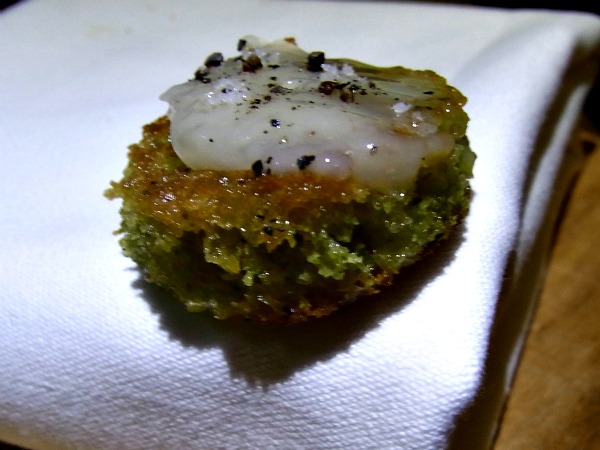 Next was raw beef, wasabi leaf mayonnaise (which I really couldn't taste) and wasabi flowers, croutons, beef fat, shallots two ways (crispy fried and pickled), radish.
Unlike Mozaic, where each dish was accompanied by a different wine, here there was a mixture of wine, beer and cocktails. With the beef was served a delicious wheat beer, locally produced. I just wish Thailand produced such craft beers.
Then it was raw abalone, langouste poached in seaweed butter, a (fairly) local and raw oyster, celtuce (a variety of lettuce principally grown for its stem), clam juice, sea urchin roe, seaweed.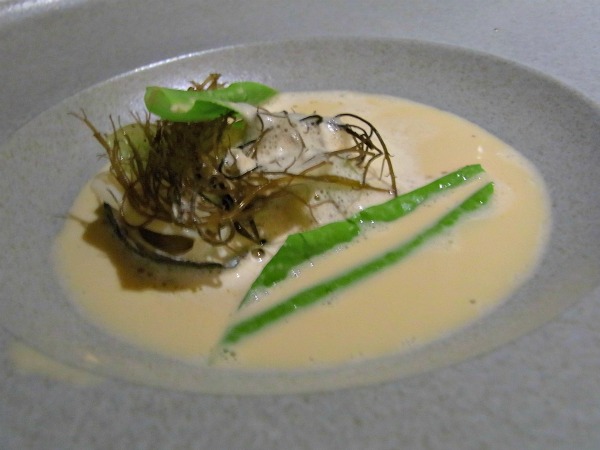 I'd been slightly apprehensive about this course. I'd never had raw abalone before, and am not a great fan of uni (raw urchin gonads). I needn't have worried. The abalone was delicious, and the uni simply one ingredient in the yummy sauce.
I'll just reproduce the description of the accompanying cocktail for posterity: "muddled celtuce, cucumber, kemangi, seaweed, fennel consommé, gin, elderflower liqueur, straight up." Kemangi is lemon basil.
Next was parrot fish (another handsome reef fish with no provenance, dammit), with braised octopus, chorizo, "bread and butter courgette" (whatever that is), red capsicum sauce, crispy oregano leaves, squash flowers.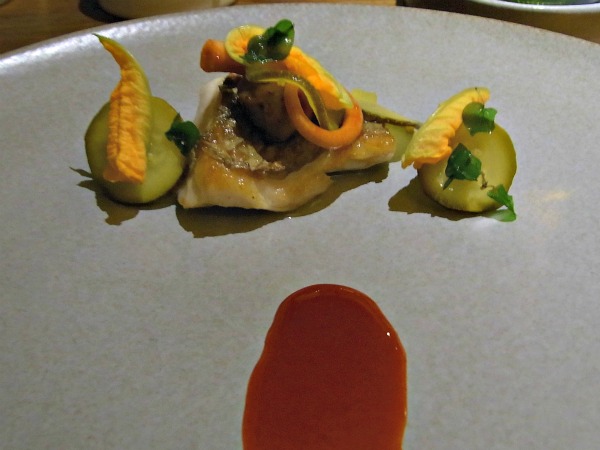 The sauce is kept away from the other ingredient since, apparently, it's not to everyone's taste. Thankfully I'm not everyone, and it was delicious. The fish was also cooked just perfectly.
For the pork course, the restaurant buys a whole pig (organic, of course) and breaks it down to provide two cuts for each service. That night the tenderloin was meltingly tender (cooked sous vide, I suspect), but I felt a little short changed by the accompanying sausage (but there again, it was a very good sausage). The pork came with green peppercorn sauce, dauphin potatoes, broccoli stems in vinaigrette and broccoli cream, roasted apple, nasturtium leaves.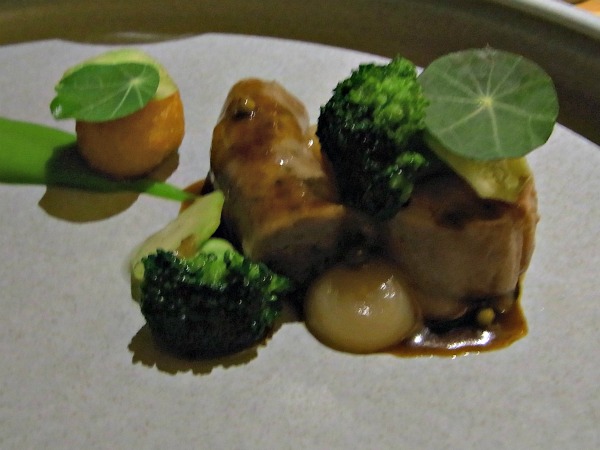 Next up was a pre-dessert, not listed on the menu. For me it was a decadent delight, reminiscent of dulce de leche with a bright sorbet. Don't have a proper description (or decent photo).
The first dessert was described as "sorrel and chocolate", but I was more interested in the beetroot component. Beetroot and chocolate has become a very trendy combination recently. Anyway, the dish was bitter chocolate ganache, sorrel/yoghurt sorbet, salt baked sweet pickled beetroot, beetroot meringue, sorrel leaves, beetroot reduction.
I did find the ganache slightly too bitter and not totally balanced by the other components.
And the final dessert was mulberry sorbet, jasmine panacotta, coconut foam, unripe strawberry consommé, coconut crème, mulberry gel, fresh strawberries.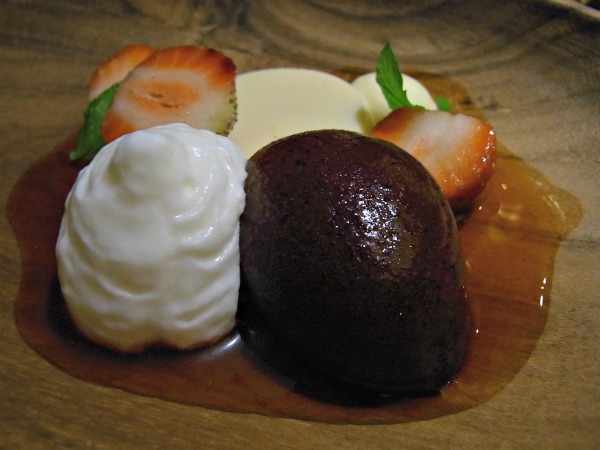 Just divine!
From then it was just a matter of finishing off (from memory) madeleines with crème anglaise, fresh rambutans and some tiny sweet cakey things.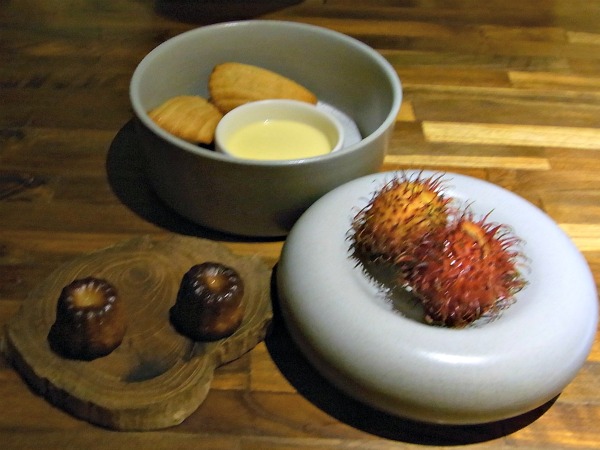 After that there were some tiny doughnuts tossed upon in bags of cinnamon sugar at the table. Like Mozaic, the meal didn't end on a high note. The doughnuts were dry and seemed superfluous. Of course, they are currently rather trendy, but I prefer to eat terrific, not trendy.
So, lots of hits, a few misses, but in all a most memorable meal.
[684]