On arriving at Mozaic you pass through a traditional Balinese entrance into a lounge area where you can peruse the menu whilst sipping on a cocktail. It was here that we received our first amuse gueules: a small choux bun filled with cheese and truffle oil, and a cornet filled with raw beef and topped with (I think) parmesan foam. (I didn't take notes, so some of my descriptions may not be 100% correct.) Anyway, the choux bun was as a mutant cousin to the "cheesy footballs" that graced the sideboard of my home at Christmas when I was a child. The (spherified?) truffle oil added a pleasant richness to the mouthful. Nice, but not great.
The cornet was a step up, with the meat meltingly tender and sweet.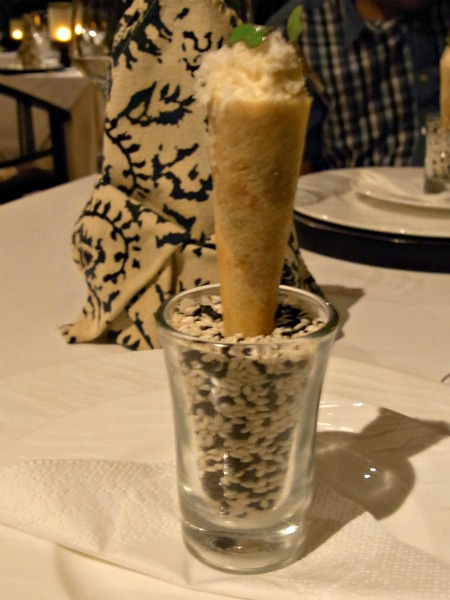 It didn't take long to decide on the food. There's no à la carte, so for me it was simply a matter of choosing between the six or eight course menu. Not knowing the full capacity of my stomach, I went for the more moderate option.
The first course was seared prawns, pickled radish, torch ginger flower.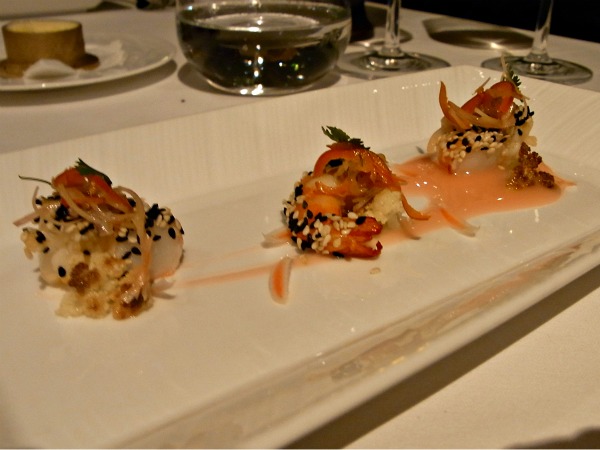 And I'll apologise here for the poor quality of the photographs. The lighting was dim and the photo exposure long since I wouldn't dream of using flash in such a place. Not all the other customers felt the same way.
Next up was confit of coral trout, smoked corn purée, baby corn, ginger crumble.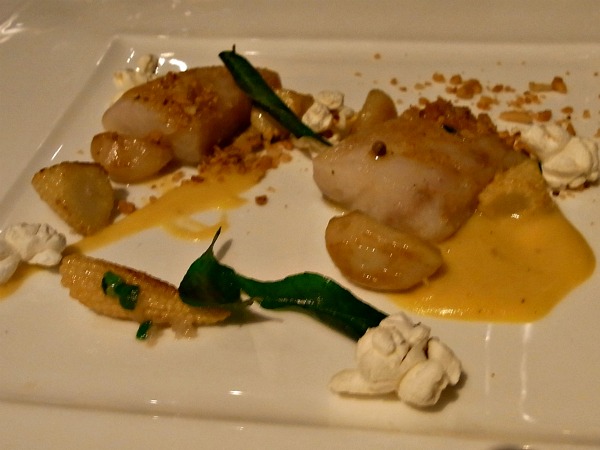 It was, of course, delicious, though I wished I knew more about the provenance of the fish. Coral trout is a reef fish and I'm not keen on eating reef fish since it damages the reef ecosystem, plus it's a beautiful fish, "coral" referring to its colour. And I really do hope it wasn't caught by fishing with dynamite or cyanide.
Following that was the course I was perhaps most looking forward to: breast, confit and foie gras of duck. I do love my foie gras. Imagine my disappointment when I saw it was foie gras terrine, rather than a lovingly fried piece of fatty liver. Still it tasted good.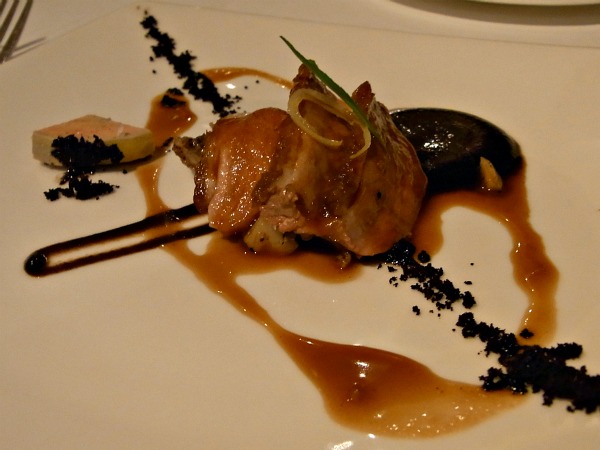 I think the sauces were a jus and a balsamic reduction. The trail of black powder is olive powder.
On to pork, pomelo purée, bok choy, oyster mushrooms.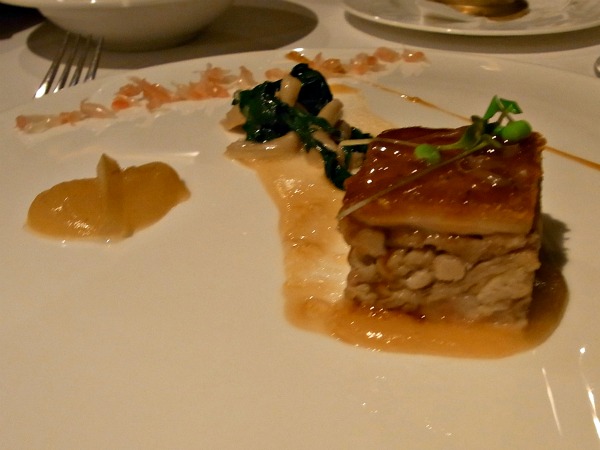 I'm always a little bit disappointed when chefs break up a cut of meat then reassemble it. I would have preferred a tranche of perfect belly pork. That said, the skin was wafer thin and magically crisp.
And so on to the desserts: sorbet of nutmeg pericarp, sautéed dried banana, grape, pear, sage/balsamic reduction.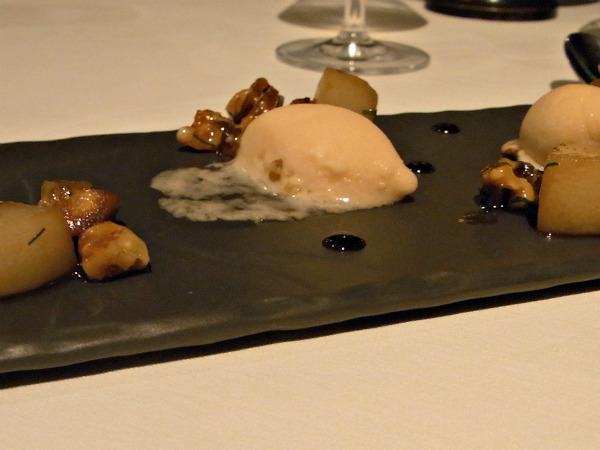 The taste of fresh nutmeg pericarp was a first for me. It's absolutely delicious, with a weird drying effect on the moth, rather like tannins.
One nice touch at the restaurant is that when you sit down to dine you are presented with a board showing many of the more unusual ingredients used in the menu, so I also got to see what a fresh nutmeg fruit looks like.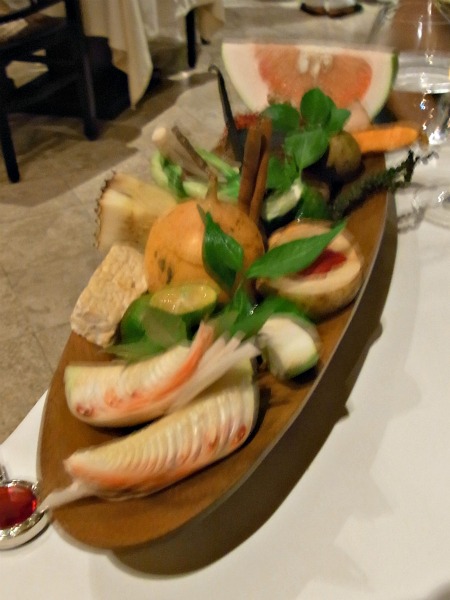 Nutmeg is on the right, in the middle. You can see the bright red of the mace covering the nut.
One of my quenelles of sorbet had shifted on the way from the kitchen. A pity, but it still tasted very good.
The second desert didn't really work for me. The menu description I have doesn't match the dish, so I think this was a dark chocolate mouse, apricot, coriander foam, sorbet and balsamic reduction. I could be completely wrong.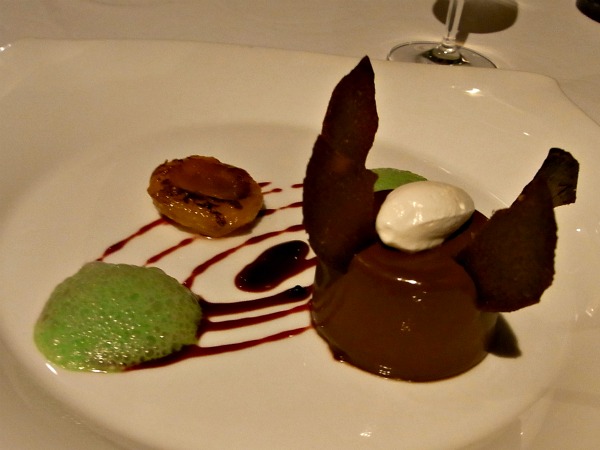 The decorations on top of the brown thing, which I'd anticipated were chocolate, were actually dried kaffir lime leaves which (a) don't taste particularly nice, (b) stick in one's teeth when you chew them. For me this was the least successful dish I had. I'd even go as far as to say I consider it misguided.
Petits fours to finish, and it was time to head back to the hotel.
[683]