"'Tis the season to be jolly."
In compliance with this strict direction I have had a couple of memorable meals in the last week. The first was dinner on Christmas day itself. I went to an Italian restaurant in Bangkok. (Actually, the restaurant calls itself "Tuscan" – but none of the dishes featured tusks. In fact, there wasn't even elephant on the menu at all.)
Anyway, vegetarian readers should stop reading here.
We shared starters. There was a sort of fishy tasting plate, with swordfish carpaccio, prawns wrapped in prosciutto, crab salad served in a scallop shell, the scallop itself, and a thin slice of a cheesy/fishy mousse wrapped in smoked salmon. And there was a mixture of mussels and clams cooked in a garlicky fresh tomato sauce.
And animal-rights activists should stop reading here.
My main course was a couple of lamb chop stuffed with foie gras* and a chunk of black truffle, bread crumbed with almond bread and then pan fried, served on an intense red wine reduction and accompanied by the finest green beans I've ever seen, tossed in garlicky olive oil and some fairly nondescript baby potatoes cooked I know not how. It was amazingly good.
And it would be sacrilege not to round off such a meal with a pudding. I settled for the profiteroles stuffed with custard cream and topped with an intense, bitter chocolate sauce.
It was pricey (about GBP 40 a head, including two glasses of wine), but worth every last penny.
My other memorable meal was my usual Christmas lunch, though I no longer make this on Christmas day since most of my friends are working. So, yesterday I had a busy morning cooking. To start with I made some canapés. Nothing fancy: a smear of pâté topped with thin slivers of gherkin; a similar smear of cream cheese topped with a thin roll of smoked salmon; and chopped cherry tomatoes with garlic, olive oil and balsamic vinegar. Of course, nothing less than fizzy white wine was needed to accompany these appetisers.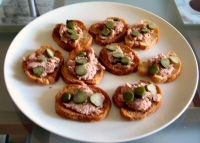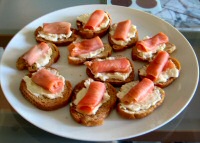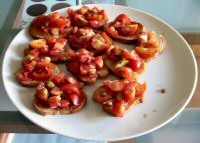 (In Thailand it's common practice to photograph each course of a special meal, then to post your photographs on a blog or bulletin board.  Unfortunately, in the frenzy of cooking I failed to take any more photos.)
The main course was roast shoulder of lamb. Lamb is a rarity in Thailand and, of my four Thai guests only one had tried it before. However, they all appreciated it; every plate was cleared. I served it with buttered carrots, mashed potatoes (a Thai favourite, which is served at KFC), mint sauce (using my home grown mint!) and gravy (also served at KFC).
The pudding was, if I may say so, a tour-de-force. A friend of mine, G., wanted to make molten chocolate cakes. We watched in trepidation as they cooked in the oven. To accompany them I had made some crystallised ginger which I served up as crystallised ginger ice-cream and meringues filled with whipped cream mixed with crystallised ginger. A few slices of fresh banana completed each plate.
My first batch of meringues, to be honest, wasn't 100% a success. They tasted great, but the shapes weren't as good as they should be, and because I used unbleached sugar they were brown. They quickly acquired the moniker of "poo cakes". A second batch made late on Saturday was somewhat more attractive, and it was these that I served to my guests.
It was good to mark the time of year with two most memorable meals.
*Those who would take away our choice to eat foie gras are apparently ignorant of goose and duck anatomy. The birds don't choke whilst being fed because their wind pipe's entrance is under their tongues. And the feeding tube doesn't hurt them because they have a very tough lining to their gullets. (After all, they naturally eat fish, sharp spines and fins intact.) And finally, the actual feeding process is a matter of seconds, rather than the prolonged torture that certain fanatics would have one believe.
[375]