This morning I left early, around 6:30 a.m., to get to an hospital appointment. It's not much fun taking nil by mouth from 8 p.m. the previous evening, so I like to let the vampire nurses drain my blood early in the day. Ten minutes later I found myself stationary. Two and a half hours later I'd not moved. There I was, hungry, thirsty and marooned in a sea of cars. What could possibly have caused this praeternatural chaos? It appears that the rain last night totally overwhelmed Bangkok's drainage system; 44 areas of town were flooded. The one which was causing my own personal traffic hell was some 8 1/2 km away. I can only imagine the extent of the chaos behind me on the road.
According to Bangkok's mayor, they can only handle 60 mm of rain, and last night more than 100 mm fell. This resulted in a major junction being flooded to the staggering depth of 10 cm. Quite why this should have totally immobilised traffic for several hours is a mystery. Why the police did so little (a.k.a. nothing) to redirect traffic is also a mystery.
Here's a 'photo from Thai Rath newspaper showing the offending flooded intersection: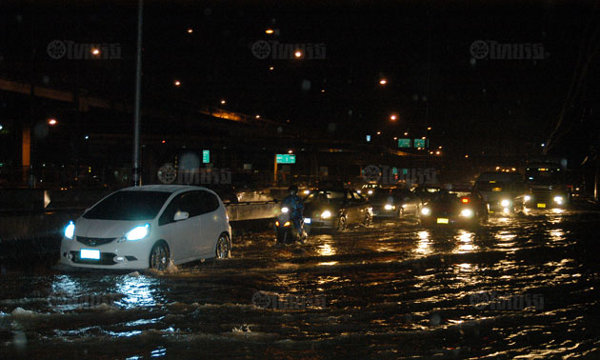 "And the waters prevailed exceedingly upon the earth; and all the high hills, that were under the whole heaven, were covered."
Genesis 7:19 – King James Version (1611)
The weather forecast is for more rain tonight.
Now, where can I find myself some gopher wood?
[409]