"One love
One blood
One life
You got to do what you should"
In my early teens I attended a grammar school in Kent that had a traditional rivalry with a nearby school. Occasionally there would be set-piece fights, and a handful of students would return to the classroom after lunch bloodied and bruised.
"We came out of it, naturally the worst.
Beaten and bloody. And I was sick down my shirt.
We were no match for their untamed wit.
Though some of the lads said they'd be back next week."
I didn't get involved; I abhor violence in all its forms, plus I'm allergic to pain.
Such rivalries in Bangkok don't always end with just a few cuts and scrapes.
A nine year old kid died earlier this week not far from where I live. He was caught by the random spray of bullets intended for students from a rival college. The bus he was on was packed. (Aren't they all?) The driver (and all credit to him) sped to a nearby hospital. Jatuporn Polpaka was already dead.
"Not like Buddha, not like Vishnu
Life wouldn't rise through him again."
Rest in peace, dear Jatuporn.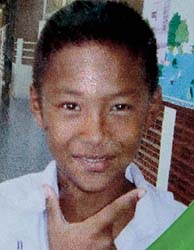 [496]